Description
Bulk Domain Appraisal Tool – Godaddy GoValue Bulk Checker
You a huge available domain list but Struggling to decide which domain names are worth for registration? Most importantly, you don't want to go through all the domain manually.
This software is created for above purpose,  it could save you a lot of time in preliminary domain filtering. With this Bulk Domains Appraisal Tool, you will be able to filter out most valuable domains from a huge list automatically like a pros.
Last Update: 2023-06-05 [Version 1.9.4 Released]
Latest Version can be download from My Account -> Download
Main Features
Portable, no installation is required.
Capable to handle hundred of thousands records.
Implement dynamic wait time interval to avoid you get banned from Godaddy API.
Save results to access database for further use and analysis
Export to excel format
100% Clean – No Spyware, No Adware.
One time fee, no subscription is required. Minor updates are always free.
Support Windows 7, 8.1, 10 and corresponding version of windows server.
License term:
$69 for lifetime (Single user). Running the software on multiple computers at the same time is allowed as long as the computers are own by the same user.
Redistribution of this software is strictly prohibited. 
This Bulk Domains Appraisal Tool tool using GoDaddy appraisal API protocol, it's a API interface open to public and don't required login. Since we have no control over GoDaddy API service. This software is provided on as-is basic.
*** No physical product will be shipped, you will grant access to download software after payment
We accept

Support Email: [email protected]
Disclaimer: We are not affiliated, associated, authorized, endorsed by, or in any way officially connected with Godaddy.com. We do not have and will not accept any liability, obligation or responsibility whatsoever for any loss, destruction or damage (including without limitation consequential loss, destruction or damage) however arising from or in respect of any use or misuse of Godaddy GoValue Bulk Checker.
---
For Windows 10 User,
You have to go into the control panel and install older version of .NET Framework 2.0 / 3.5 . Since this software is build with previous version of .net framework.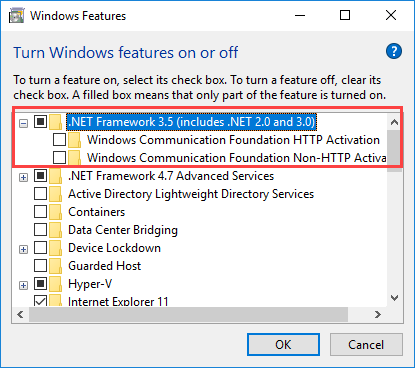 You can also install it offline by using following method.
https://docs.microsoft.com/en-us/dotnet/framework/install/dotnet-35-windows-10
Demonstration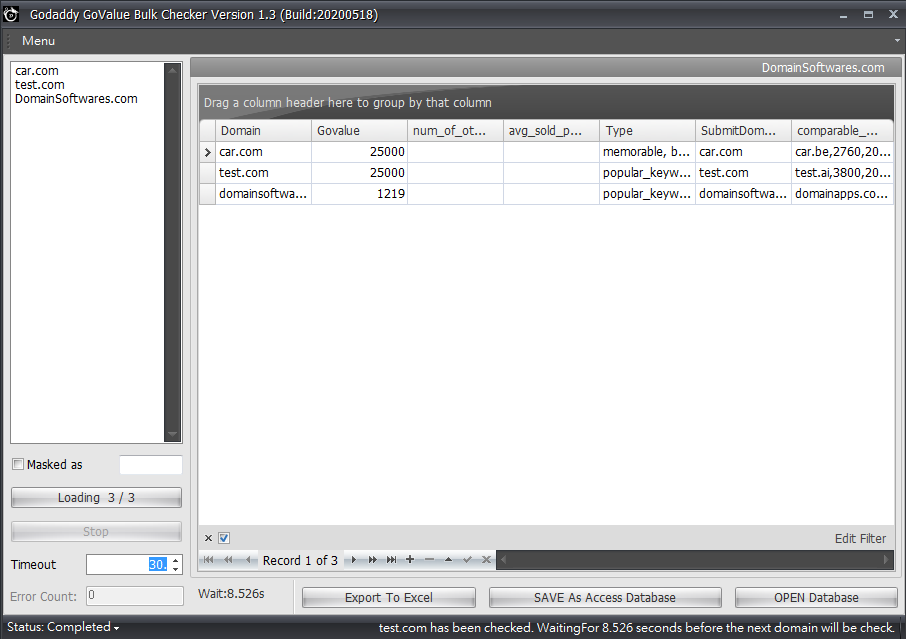 Masking function in action
In below sample , we mask the .com into .cc can to have a better evaluation over GoValue. It help to bypass the 25,000 rooftop limitation.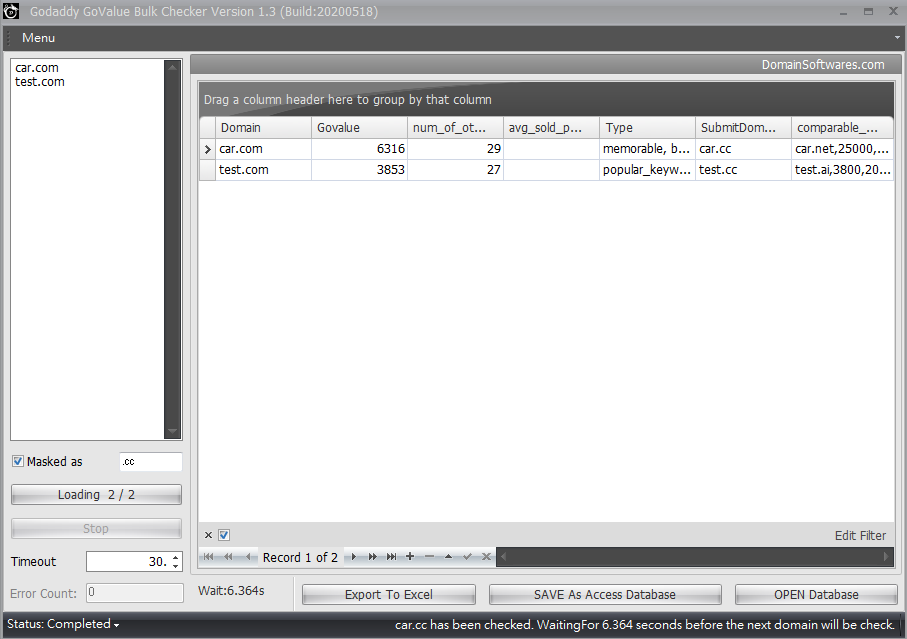 Support Export and Import
This software is capable to handle hundred of thousands of data.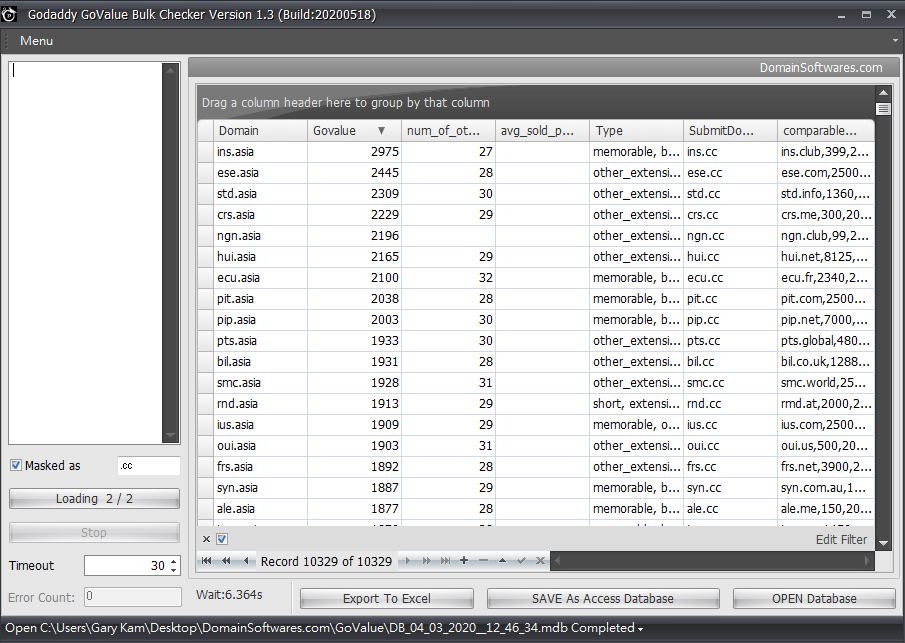 Filter out valuable domains with your own choice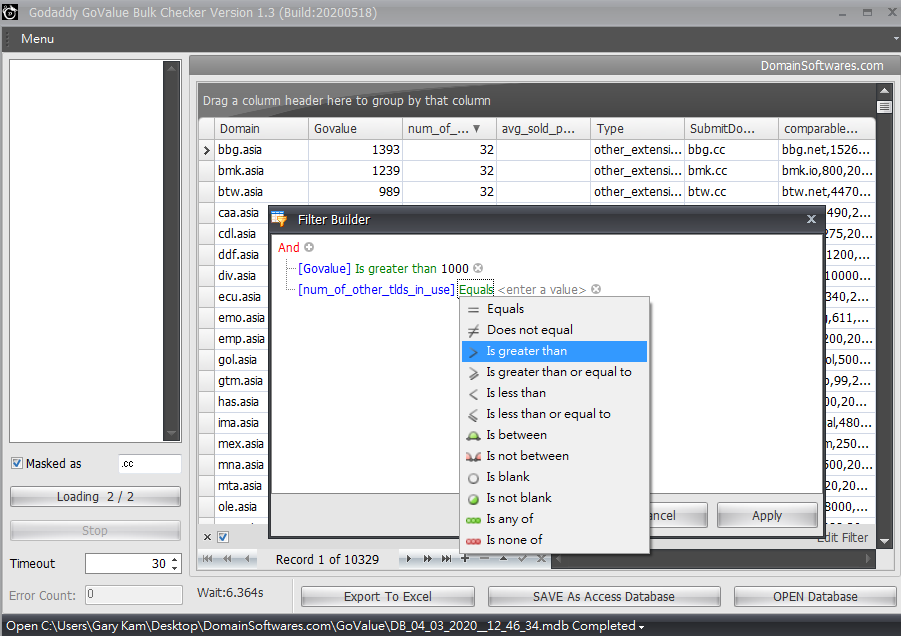 An example of filtering 10329 records down to 260.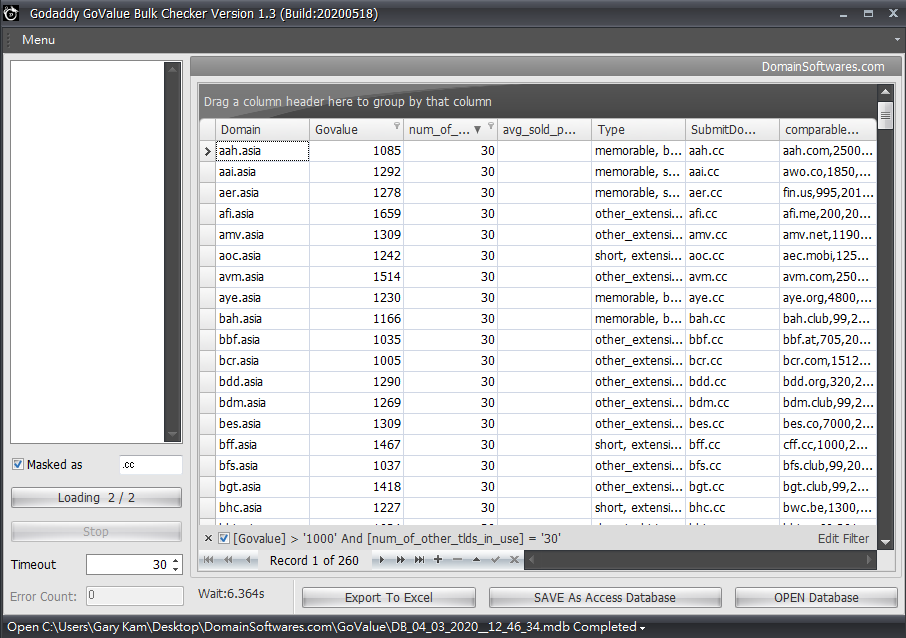 Export results to Excel for printing or sharing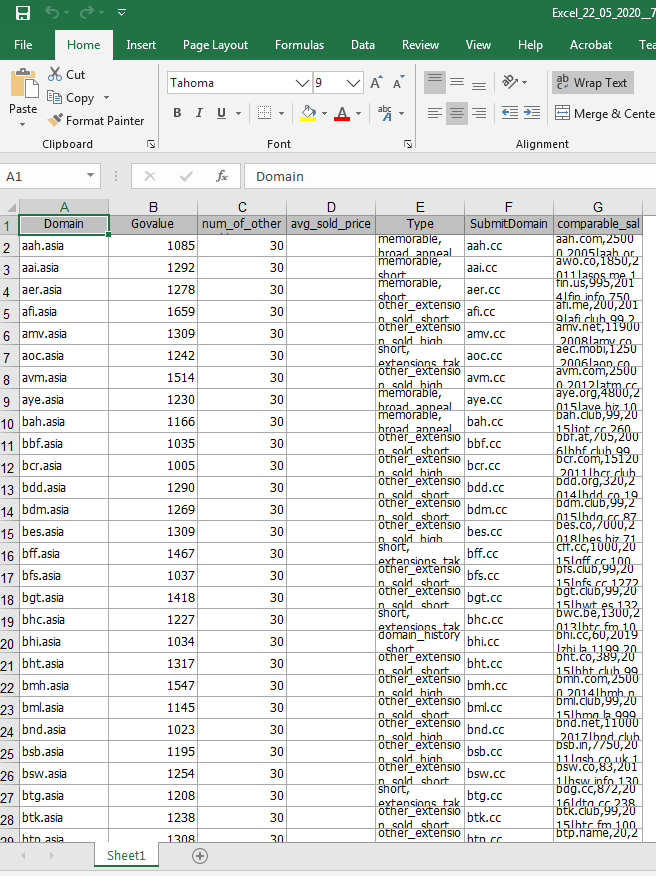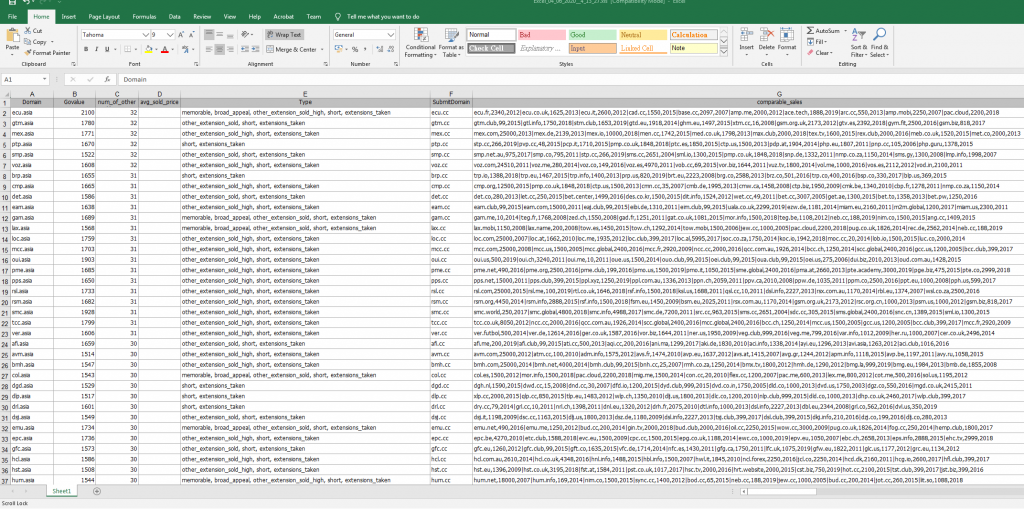 ---
FAQ
Where Are The Excel File And Access File Saved?
They automatically saved under the same folder of 'Godaddy GoValue Bulk Checker.exe'
The file name is auto created under [Excel_(Date)__(time).xls] format.
For example , Excel_04_06_2020__4_13_27.xls.
---
How To Fix The Requested Security Protocol Is Not Supported?
How To Fix The Requested Security Protocol Is Not Supported.